It was time to start adulting and move out of my home studio into a dedicated work space.
I don't know about you but I find adulting quite hard. Investing in a space where I could be creative was something I'd been thinking about for a long time, but packing up my stuff to take to the space was terrifying. What if I couldn't create in the new space? How would I cope with not being able to procrastinate and sit on the couch with Netflix? Working with friends, would that be a recipe for disaster?
I didn't realise that this would be such a gamechanger, the difference it has made to my art has been nothing short of radical. When I imagined my studio it was always my own private space, I couldn't imagine sharing it with someone else. Not from a lack of sociability, but my own crushing anxiety: what if we don't get on, I won't be able to hide all my painting disasters, do I even deserve to have a proper studio. I get in my own way so often, but sometimes you just have to hold your breath and dive in.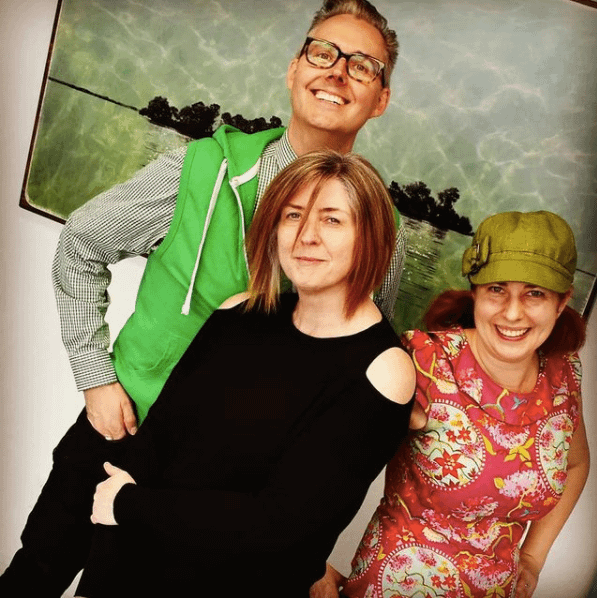 I was in safe hands. I thought I was just going to a place to work, I didn't realise that I'd have so much support. We talk constantly about what we are doing, where we want a piece to go and why we think it might or might not be working. These guys are amazing. I should have done it sooner, but if I had it would have been with someone else and in a different space, so it's worked out for the best.
I'm so proud of our space, it looks amazing! I love our bright and airy shared work space and our fantastic front of house gallery. Every day when I walk in I feel so grateful and ready to work. After a long day at a show I drop my work back at the studio, no matter how tired I am I feel refreshed just walking in the door. The first thing I notice is how it smells, a mixture of paint, wood and varnish, it smells like the second home that it has become. It's a place where we all create, play and experiment.
A huge thanks to everyone who came out to celebrate with us!